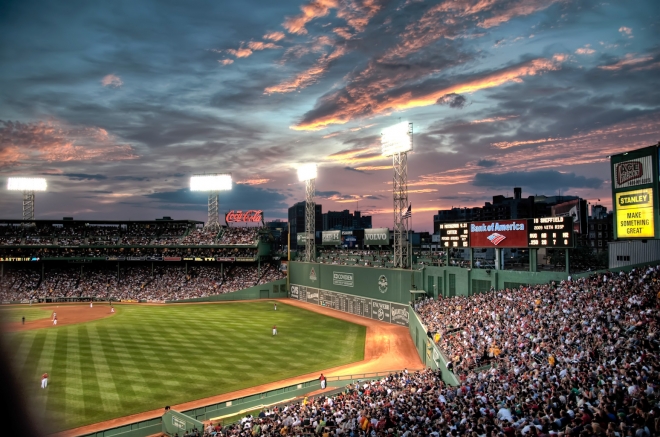 Todays post is about a very weird story of success and failure of one of my older Fenway photos, that you maybe know (Link to the flickr page). The photo was selected in the photo competition "100 Years Fenway Park" of the Museum of Fine Arts Boston and the Boston Red Sox as the Winner of the Landscape category. This means it will be exhibit in the Boston Museum of Fine Arts. Yeah!!!
That is what the jury said, (according to the Boston Globe article below)
"When I first looked at it, to me it almost struck me as a painting," Dick Bresciani, vice president for the Boston Red Sox.
"It has a kind of Wagnerian sweep to it," Malcolm Rogers, director of the ­Museum of Fine Arts.
The only problem is, I didn't submit the photo. Another guys downloaded it from my flicker portfolio, submitted it in his own name and called it "Dazzling Sky at Fenway Park". Result: the photo was only the winner for a short moment and disqualified from the competition. Unfortunately, another photo will now be exhibit in the Boston Museum of Fine Arts.
Congrats to the winner, super sad for me.
More about the whole story you can read here.
More impressions of the Fenway Park: http://www.werner-kunz.com/world/2010/03/photo-walk-around-fenway-park/